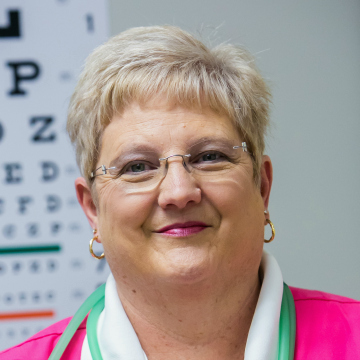 Team Stories
Cindi Blackmon
Growing up in Flat Creek off of 903, Cindi Blackmon never dreamed she would be able to work in nursing just a few miles from home. She found her dream job with OceanaGold's Haile Operation as the Occupational Health Nurse.
Better known as "Ms. Cindi" in the community and at Haile, she is a lifelong nurse. When she was a little girl, her father experienced health issues. "When my Dad was in the hospital, I remember seeing the nurses take care of him. And they helped me to understand what was going on. Their caring and compassion is what inspired me to become a nurse."
When Ms. Cindi graduated in 1980, she worked in hospice and home health care. After navigating the emotional road of hospice, she found a new role: occupational nursing.
For more than 25 years, Ms. Cindi has been working with employees when they are injured or not feeling well, but she also focuses on keeping them healthy. "I enjoy helping other people, whether fixing up a minor injury, or helping with a larger issue. For example, an employee came in the other day generally not feeling well. I took his blood pressure, and it was too high. I was able to help get him a doctor's appointment so that he could get this issue addressed."
Cindi enjoys the work she does every day at Haile Gold Mine, and especially enjoys caring for the longer-term health of her co-workers. She organizes preventative screenings for heart problems, diabetes, skin and other cancers. She likes developing relationships with her coworkers, learning about their families and building trust.
Haile's commitment to health and safety guide Ms. Cindi's work. Her office and exam room are in a centralized location on site, a stand-alone building dedicated to security and safety. It is easy to access, right by the main gate. She works alongside security staff each day, who are there to assist if needed. She says it shows that Haile cares about the health of the employees. They've made the building and the people inside it a priority.
Outside of work, Ms. Cindi's proximity to home means more time to spend with family. Her younger son lives nearby, serving in firefighting in Lancaster County and looking forward to his wedding this year. And her older son is even closer — and a familiar face at Haile — Matt Blackmon from IT. She gets to pick up her granddaughter during the week from daycare. And, her family always eats dinner together on Sunday nights to connect before the next week begins.
See All Team Stories