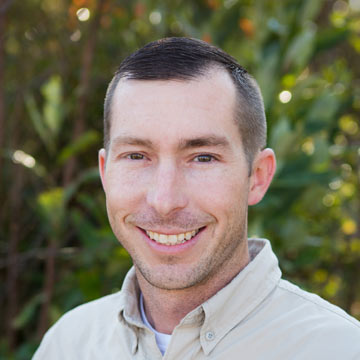 Team Stories
Russell Clark
Culinary school and a state erosion control certificate…those aren't resume points you'd expect to see in the same mining applicant, but then again Russell Clark didn't expect to end up at a gold mine. "The Haile team wanted to purchase some of my family's land.  During the negotiations I started learning about the mine and asked them if they were hiring."
That was 2010.  Russell joined the team and began work in the Haile reclamation group, which focuses on returning the land to a safely useable and protected state once the mining is through.  "It was a lot of work and challenging.  But I want to be challenged."  Russell was then promoted to Training Supervisor for all of "the big stuff" equipment at Haile, and Russell's advancement earned him a trip abroad.  He flew to Melbourne, Australia to learn more about training and safety at OceanaGold's headquarters.  Except for a trip to the Bahamas, this was Russell's first major trip abroad.
Russell is on the move again. He recently was selected to be the new Health & Safety Coordinator for the Haile Operation. His extensive knowledge of the day-to-day operations, relationships with employees and experience in training made him the ideal person for the job. "It was a natural crossover for me, and I enjoy being able to work with every department." Now Russell is planning to go back to school to get his B.S. in Health & Safety. "There is an opportunity to advance in this company.  If you work hard and get to know the business, you can advance."
That culture and the comradery at Haile make Russell glad he took a chance in 2010 and joined the Haile team.  Russell is married with two kids: Chloe (12) and Jacob (7.)  He and his family still live near the gold mine.
See All Team Stories